If you've subscribed directly from Wondery, to get the benefits of Wondery+, including ad-free episodes, you have three options, listed below. If you subscribed to Wondery+ via Apple Podcasts, see this FAQ instead.
Option 1: Listen in the Wondery app
The easiest way to listen to Wondery+ is via the Wondery app for iPhone or Android, which you can get by clicking the link below:
Note that the app is available in 30 countries. If you're in another country, read-on.
Option 2: Listen on Wondery.com
Go to any show page on wondery.com

Log in with your Wondery account credentials

Browse to any episode and hit play
Option 3: Listen in Popular Third-Party Apps
If the app is not available in your country, you prefer using a third party podcast app to listen, or you plan on using a computer to listen, you can still take advantage of your Wondery+ subscription by adding private RSS feeds for our shows to many popular podcast apps, including Apple Podcasts, Google Podcasts, Pocket Casts, Overcast, Podcast Addict, and more.
On and iPhone or Android mobile device:
Log in to your Wondery+ account on www.wondery.com.

Go to your desired show's page by clicking the Shows tab (https://wondery.com/shows) and finding the show

On this page, select "More Listening Options:"


From here, you can select one of our specific icons for popular third party podcasting apps, or select "Copy RSS Link" to copy your personalized RSS feed for that show to your clipboard.

The next step will vary depending on your third party app of choice. Ultimately, you will want to paste your copied RSS feed link into your app's "add feed" function. See this page for more info on adding private RSS feeds manually to a variety of third party apps.
On a computer via Apple Podcasts or iTunes:
Wondery+ works well with Apple Podcasts on newer Macs. It also works with iTunes on older Macs and Windows PCs. See here for step-by-step instructions for adding Wondery+ feeds to Apple Podcasts and iTunes.
On an iPad:
Go to the Shows page on www.wondery.com after signing into your Wondery+ account.

Select any feed or show

Select "More Listening Options" from the right side of the page, and then select "Apple Podcasts" - follow the instructions displayed by that app to confirm and add the Wondery+ feed to your app.

In the Apple Podcasts app, tap on "Library" from the bottom bar, then "Shows" from the left-hand navigation.

Scroll down the page and look for the Wondery+ version of the show you're looking for. IMPORTANT: The Wondery+ version will be in addition to the free public version of the show you may have already downloaded. The Wondery+ version will have a small "W+" badge in the upper-left corner of the cover art. It will also have "| Wondery+" added to the end of the show name (e.g. "Joe Exotic | Wondery+").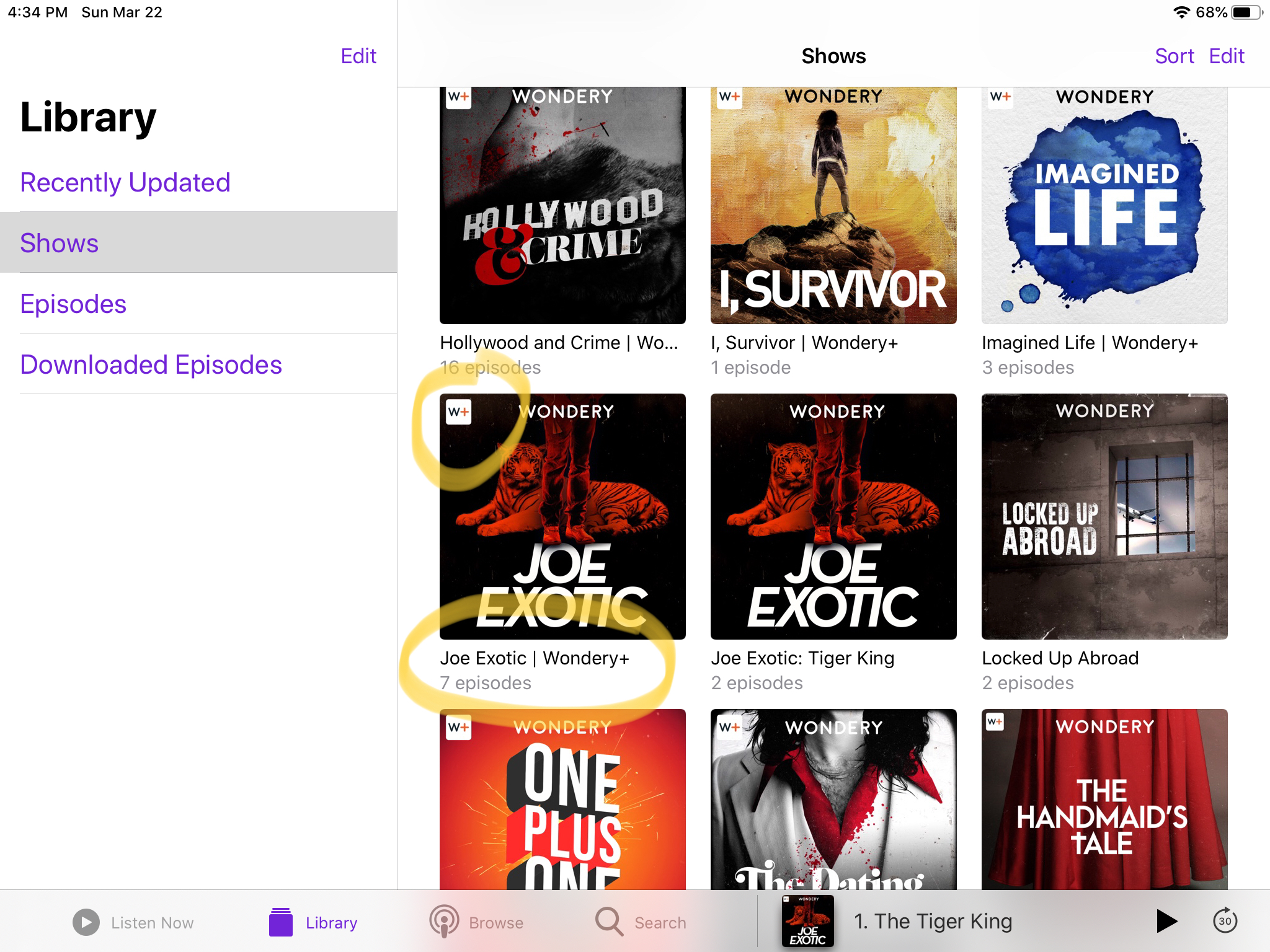 This video shows all the steps required to add a show on iPad. Reach out to us via the chat widget if you have any questions or run into any issues!